Our twins are seven, yet the occasions when I've been away from them overnight can be counted on less than a single hand. (and yes, I only have five fingers on each -- despite my Seussian tendencies...)
Double Daddy, when he was still working on Circuit City's broadcast advertising team, frequently had instances in which he'd be gone upwards of four or more days -- on a shoot, supervising focus groups, attending the National Association of Broadcasters' convention or the like. His returns were marked by a wide array of welcoming devices: door-mounted posters, sidewalk chalk artistry, balloons held by running, hug-ready children (and a wife, too) at the gate.
Last weekend, the finger representing my absence #4 was spoken for as I participated in the
Fishful Thinking
"Parenting for Possibilities" Symposium and faculty training session in White Plains, New York. Sunday afternoon, I returned home; toting abundant affection for newly-met, similarly minded mothers, as well as a mental carry-on chock full of positive parenting practices ready to implement -- and share.
In addition to smiling faces and tight embraces (apparently ones that crossed designated security lines -- our apologies to the TSA), there was sentimental signage:
Look closely. In addition to my realistically depicted lush lashes, clutched in my drawn doppelganger's grasp is a goldfish cracker!
Such is my photo for a first foray into
Photo Story Friday
...hosted by the amazing Cecily (one of the moms for whom I'm now harboring abundant affection). If you haven't visited
her blog
,
DO
!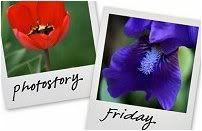 Hosted by Cecily and MamaGeek
While you're hopping around the web make a point to go visit Tiffany (another mom for whom I'm now harboring abundant affection), one of the headmistresses of
SITS
, and host of her own blog,
The R Family Diaries
complete with her new weekly feature,
Fishful Thinking Fridays
!
Happy Friday, Friends! (What are you up to this weekend?)