Works for Mommy...
...and works for daughter.
Moved by Cecily's father-centric Photo Friday post, I jumped at the chance to post one of my favorite Daddy/Daughter images of all time.
Now go on over and see other pictures that make Friday Photo-fabulous!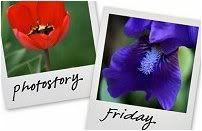 Hosted by Cecily and MamaGeek

Interested in Pepperidge Farms' Fishful Thinking Program? Seeking activities and ideas for imbuing your kids with optimism? Click the link below!