All the options look pretty good, don't they? Think I'll enjoy playing this game once Sarah is done with its creation.
The discovery of this craft mid-project is one of many reasons I am thankful this Thursday. Now be sure and go visit Nicole at What a Trip! for other glimpses of gratefulness this morning.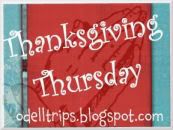 PS The guesses on Sarah's
"Name That Newscaster"
contest have been phenomenal! Since he hasn't been identified yet, here's a hint: He's connected with 1600 Pennsylvania Avenue. Think you know who he might be? Click on the contest post title above and be the first to pinpoint that person!