Please tell me I'm not the only one old enough to remember them...
[Actually, our two are familiar with the Swedish mime group via
their appearance on the now on DVD, The Muppet Show
. If the SOLs covered Avery Schreiber, Dudley Moore, Miss Sandy Duncan and the like, we'd be Ivy League-bound for certain!]
Now go share and enjoy other Photo Stories!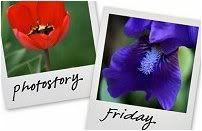 Hosted by Cecily and MamaGeek