Blossoming. Expanding. Growing.
As of today, facilitated via the web design proficiency/perfection of Jo-Lynne at
DCR Designs
, Twinsights (the non-blog support site I've loved and labored over since 2004) has officially merged with Twinfatuation!
Behold the "peruse the pages" bar above! The debut is still very much in the fledgling stages, but in the coming days/weeks, there will be posts a'plenty to pop between...all addressing aspects of plural parenting.
And while my part is far from complete, the framework for the family-centered fun is what we're declaring Finished for Friday!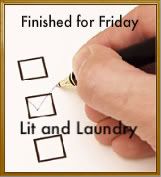 Be sure to go visit the thoroughly engaging ThreeUnder's
Lit and Laundry
for more fait accompli!

PS -- As Twinsights embarked upon many years ago (when Darren and Sarah were TWO!), we want to gather the blog URLs of any and every multiples family who'd like to be included in a twin/multiples specific blogroll to go onto the site. If you wish for your blog to be included, please either send your blog link using the "Contact" email access above, or leave a comment with that web address on any of the Twinfatuation affiliated pages. Thanks!